We have all come here to do something amazing. Mountaineering is one such amazing activity. As we move away from human civilization and enter into the lap of Mother Nature, a mountaineer is welcomed with breathtaking scenery, fresh air to breathe and pure mineral water to drink. Swirling winds, gushing rivers and the sweet singing of birds are the kick starters for a thrilling journey ahead.
"Mountaineering is not just an adventure sport,
but an intriguing spiritual experience.
Every trek or expedition helps one connect with the real Self"
– Sumit Upreti
The Expedition
My recent visit was to Friendship Peak (5289 m or 17352 ft). It is one of the most famous treks and summit peaks located in Pir Panjal range in Himachal Pradesh. We boarded an overnight ordinary HRTC bus from Delhi and reached Manali by 10 am. This was a conscious decision to enable gradual acclimatization as most of our team members were traveling from Kolkata (sea-level).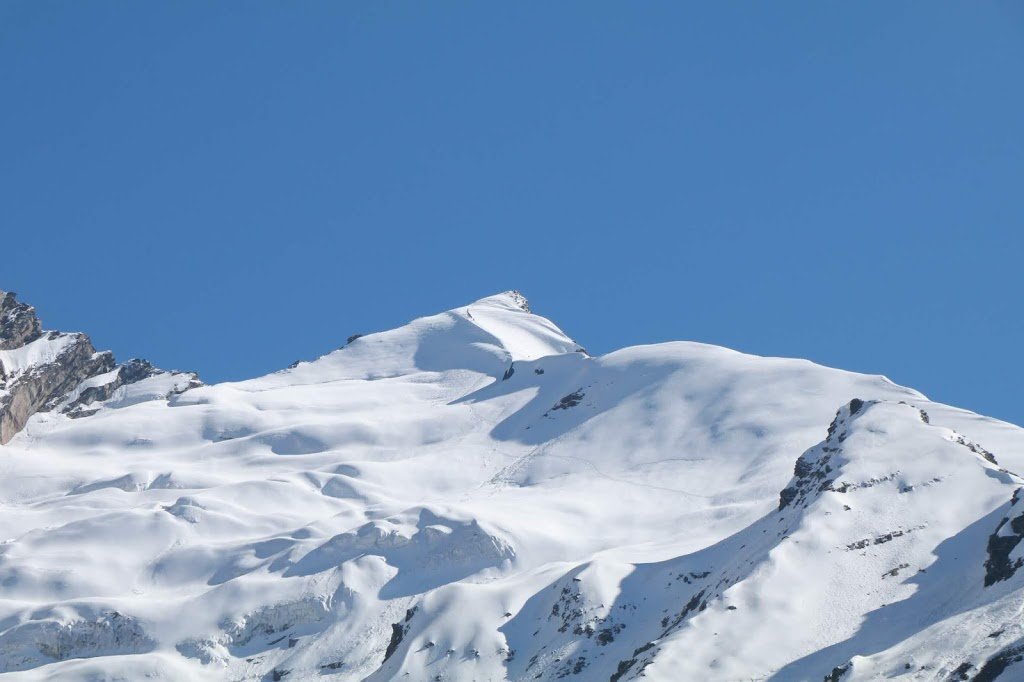 Being a nature lover and a classical yoga teacher, I had the opportunity to merge my two passions. I could teach my mountaineering team unique principles of harnessing Nature's energies through ancient yogic techniques. This turned out to be immensely beneficial for all team members in difficult tiring situations throughout the expedition. This was the first time I could experiment with a Pure Vegetarian diet in high altitude areas and without any artificial food supplements.
Day 1: As a team of fifteen members, we arrived at Solang Valley (2050 m). After brunch, we went for a short trek to Solang Nalla Water Fall. The sweet drinking water quenched our thirsts. Evening we had a relaxing session on yogic loosening exercises. Overnight stay at the campsite.
Day 2: Trek to Dhundi (approx 4 hours, 2900m). Tent pitching and then height gain trek. Evening Fun and Group Singing. Session on Yogic Breathing and Food Consumption in high altitudes.
Day 3: Trek from Dhundi to Lady Leg (approx 7 hours, 3900 m) via Bakkarthatch. Beautiful sightseeing of flora and fauna on the way. Crossing over rivers and snow bridges amid sunny weather. Arrival at Base Camp. Setting up tents on snow. Photography session. Short height gain trek. Session on Yoga Philosophy and Energy Techniques.
Day 4: Trek to Vyas Kund. Height gain (4200 m) and snow craft training to all members with Snow boots, mountaineering equipments and Ice Axe usage. Session on Yogic Meditation and Power of Visualization.
Day 5: Rest during the day. Preparation for midnight Expedition. The Expedition starts sharp at 11 pm with a team of Twelve members. Three members decided to stay at base camp.
Day 6: Successful Summit of Friendship Peak by Nine members of the team (10 June 2019). Three members returned from Col area. Despite challenges, all members returned safely to the base camp by afternoon.
Day 7: Morning session on Snow Yoga. Trek to Dhundi amid rain showers. Overnight stay at the campsite.
Day 8: Trek to Solang Valley amid rain showers. Post lunch discussion and feedback on team members Expedition experiences.
Day 9: Departure from Manali to respective destinations.
  This Expedition was supported by The Institute of Exploration, Kolkata, West Bengal. This institute is affiliated with Indian Mountaineering Foundation (IMF) and was established in 1971 with an aim to promote self-exploration through mountaineering and adventure sports activities for all age-groups.
The Expedition was facilitated by our guide Mr. Ravi Sharma (aged 35 years). He has over 18 years of professional mountaineering experience and has climbed over 15 peaks. We really enjoyed his company and freshly cooked delicious meals his team prepared with loads of love.
Friendship Peak Summit is not for amateurs. The trek is relatively easy until Base Camp of Lady Leg. The peak gets technical as we approach close to Col area. There is steep elevation from Col to Summit area which requires a good understanding of Snow craft and footwork. After sunrise, snow starts to melt swiftly and if the summit is delayed, it becomes dangerous to walk down the steep slopes in soft slippery snow. Good level of physical and mental fitness is recommended for this peak.
I must mention my amazing experience with Himachal Road Transport Corporation (HRTC) bus services. The bus service on Delhi – Manali – Delhi route was perfectly on-time. The bus was flying at top speed without compromising passenger safety. The road via Chandigarh is smooth like butter. Must try for those traveling to HP.
Finally, each one of us really enjoyed this opportunity to spend a few days in pristine mountains. We all come back with newer experiences and life long memories. We return stronger, calmer, peaceful than ever before. High Mountains teaches us the real value of our life and directs us towards a greater purpose of our existence.
"Everytime I visit the mountains, they unlock deeper unexposed or unexplored
dimensions of my personality."